Accreditation of our study courses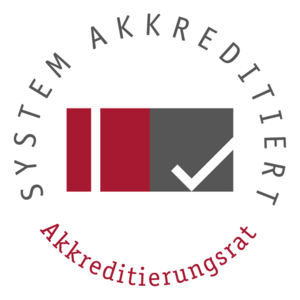 Accreditation is a procedure for assessing degree programs at state or state-recognized universities. It serves to ensure the quality of teaching and studies and is carried out by external and internal experts.
Due to its comprehensive quality management system, the Accreditation Council of Trier University of Applied Sciences was one of the first universities in Germany to authorize them to independently examine and assess their courses within the framework of the so-called system accreditation.
All courses of study in the department are accredited as described below.
The quality management of the Business School is fully embedded in the university's quality management system. Its most visible expression are the various student surveys, which are used to systematically identify further development opportunities for the individual courses of study and the entire study organization.
The main surveys carried out regularly, which are comprehensively documented as part of the university's survey system, are:
• First semester survey: annually
• Student teaching evaluation: every three semesters
• Graduate survey: by year, no later than two years after graduation
• Service quality check: every two years
The results of the above mentioned surveys regularly prove to be extremely helpful for us. We therefore ask all of our students to participate.