Diverse study opportunities in a historical setting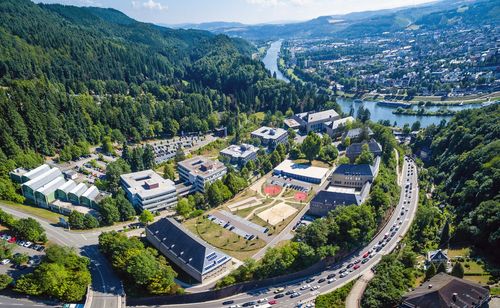 Above the roofs of Trier, just a few minutes' walk from the city centre, lies the largest campus of the Trier University of Applied Sciences, the main campus at Schneidershof.
The university administration and the most important service facilities such as the university library, the Career Service, the International Office and the Admission Office are located in the buildings, some of which are listed as historical monuments. The departments of Civil and Supply Engineering + Food Technology
,Computer Science, Engineering and Technology, Business School as well as the department of Art and Design with the focus on Architecture are located on the main campus and offer a wide range of Bachelor's, Master's and dual courses.
The campus enables close interdisciplinary cooperation, from which not only the numerous cooperation partners and research projects of the university profit.
Future-oriented teaching and research
The practice-oriented teaching and research requires a large number of laboratories and workshops, which are spread over the entire campus. The size and shape of the machine hall are particularly eye-catching - an institution not every university can boast of and from which students benefit directly. Here they can learn on state-of-the-art machines and even manufacture and test components themselves.
The Trier University of Applied Sciences is preparing for the future and is constantly on the move - not only the more than 5,000 students on the main campus make sure of this. High investments in the modernisation of the teaching buildings, lecture halls and outdoor facilities ensure excellent conditions for study and research.
A university with lifestyle
Life at Trier University offers much more than seminars, lectures and examinations. A sports field in the middle of the campus area, chill-out areas and an outdoor barbecue area as well as the canteen with its cafeteria invite you to stay after the lecture and take part in campus life. Relax in nature, climb in the high ropes course, jog, picnic, just relax... All this is offered by the Weißhauswald recreation area located directly next to the university. On the other side of the campus, the Moselle offers numerous leisure activities - from rowing in your own university team to cycling tours, cultural events and gastronomy on the Zurlaubener Ufer not far from the campus.