My name is Federico and for this semester I am an Erasmus student in Trier. This space is where I am going to report my experiences, my struggles, my new friendships, the places I will visit and all of that!
I come from Rome, which is where I was born, where I live and where I study. Im currently visiting a mixed major of civil engineering and architecture. I am continuing the course also here in the Hochschule Trier. My focous is uterly towards architecture and its derivative. I am looking forward to learning the german way of designing and planning!!
As far as my personal life goes, I am a gay 22 guy who loves to hang out with friends more than anything else. I love architecture and taking pictures of it. In addition to that, I love watching youtube as well as tv series (my all time favourite being How I Met Your Mother), I love tattos (and I'm looking forward to getting a new one here). Just like every typical millennial, I love houseplant and love caring for them. In gerneral, I am regular student loving life and living like there is no tomorrow.
I hope that this can be the first one of many reports and that I'll be able to share my adventure no matter the coronavirus, the struggles at the university and everything that will come!
If you wish to see more pictures and stories from me, this is my Instagram: federico_del_grande
Tschüss!!
As the first month has already gone by, I've been able to experience how widely different the lectures here at the Hochschule are, in comparison to those in Rome. I spent the first week here attending the activities of the Welcome Week for International students organized by the Erasmus office, and on top of that meeting my new friends. I was soon able to meet my "coordinators", meaning a couple of students from my same major, who helped me to figure out what courses to choose according to my learning agreement and their experiences with professors and subjects in general.
It was only two weeks later that my courses started, and not even all of them. That in itself I foud it very disorienting; compared to my university where the students know exactly when the courses are going to start months before they are suppose to, here I found out that many professors still needed time to tell their students a starting date, and often they did tell them just a day in advance. So, organisation wise, I have to say that the German stereotype for now has really let me down!
Strolling around the old town
The old town square took me back to the medival period then we decided to walk alongside the Mosel for a while, before going to have an ice-cream, my first german ice-cream, which coming from Italy I had some doubts about it, but it was actually pretty good! After the castle, as every good erasmus student would agree on, it was to have a drink: we went to an Irish pub near the Mosel and started drinking absinth at 17:00. After having a good time we went back to Trier, had dinner together at a Chinese place and had a lot of fun. Since with the new corona regulations it's going to be harder to travel, I am so glad we could at least have one day off all together with my friends!
After almost a month in lockdown here in Germany, I thought it would be appropriate to write about my experience and my opinion on it. I would like to be helpful to anyone thinking of going out of their country right now who might wondering if it's going to be worth it or not: my short answer is yes, but let me elaborate more. Since, the 2nd of November every pub, restaurant, gym and cinema had to shut down, together with many other activities. On top of that there's a big restriction on the amount of people coming from different households that can meet up, both in public and privately. Even still, my experience here has been nothing but great. Of course the night life has slowed down dramatically, and of course I miss hanging out with my group of erasmus friends all at once, but compared to the situation in many other countries or even bigger cities, I consider myself extremely lucky: this covid situation is not going to end soon, and therefore my advise would be to make the most out of it anyways, and not waiting and hoping for things to be ideal for you to do your Erasmus experience.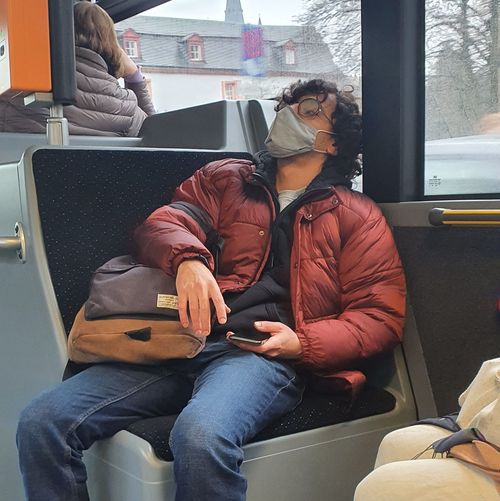 After resting at the riverside for a while we decided to go back home, and that's probably, when we had the most fun. After arriving in Koblenz, the worst thing that could happen to a traveller occured to us, the wonderful ingenuity of the German train system. Allthough we did go to the right platform, the train wagons split and our offcourse started to go back to Mainz. After switching 3 more trains, some panicking, some drinking on the streets and a life time we finally were able to head back to Trier. Moral of the story; Sometimes things does not go according to a plan but if you are with the right company something bad will trun out to be the most momerable ones. And I guess that's just part of the Erasmus life.
Being the end of the year it is easy to let memories and thoughts about this past 12 months take over, and since this is my last article I also thought it would be fitting as an ending. Without even talking about nine months prior of me coming to Trier, I think That these three months have given me a lot to cheerish. As I have previuslz stated, I think The Erasmus experience was well worth the leap of faith we all had to make and I am sure that in the coming two months, I will have plenty of time to make more wonderful memories.