Whether Christian Beck as chief designer of Aigner, Reinhard Brodel as chief designer of Clockhouse C&A or Chemena Kamali as chief designer of Saint Laurent
Many success stories began with a fashion degree in Trier. Designers, stylists, editors, costume designers or owners of their own companies. There are many ways to go after graduating in Trier.
The fashion industry is one of the largest, most consistent and traditional industries in the world. It is currently undergoing major changes. Exciting questions of sustainability, digitalisation, globalisation and much more offer influential opportunities to shape the future.
A sound education offers increased chances on the job market, as the fashion industry has for decades valued graduates of the Fashion Department of the University of Applied Sciences Trier. At the same time, the course of study offers the opportunity to try out and develop, to graduate with a Bachelor's, Master's or doctorate and to take one of the numerous career opportunities. A close, family-like network of former graduates provides support.
The topics sustainability, digitalisation, artistic development, sound craftsmanship and an understanding of the fashion market form the basis for a career in fashion. Experience since 1922 and numerous internationally successful graduates confirm these success stories.
Their success stories began in Trier.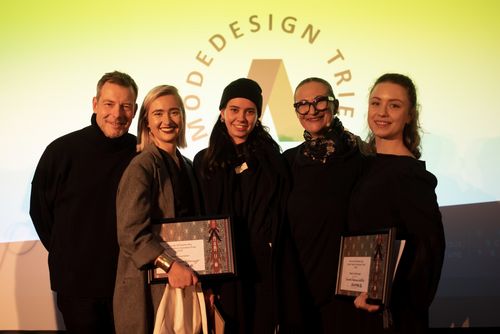 Prof. Dirk Wolfes, Nadja Führinger, Lea Kasper, Miranda Konstantinidou, Anette Göhrlich
Prof. Dirk Wolfes from the fashion design department: "The fashion industry is currently undergoing major changes. It is a highly complex profession that requires a great deal of knowledge - from cutting, materials science, communication and market understanding to production processes".
A top-class podium at the alumni meeting in Trier
Antje Selzer – Senior Designer @ Calvin Klein / Sina Steidinger – Senior Designer @ Rosner / Julia Lipfert – Design Coordinator @ Betty Barclay / Prof. Christian Bruns - Professor @ Hochschule Trier / Reinhard Brodel – Head of Design @ C&A / Volker Ketteniß – Head Menswear @ WGSN / Miranda Konstantinidou – Owner @ Konplott / Manfred Wagner – Senior Designer @ Closed
Fashion design in Trier - a course of studies with almost 100 years of history and tradition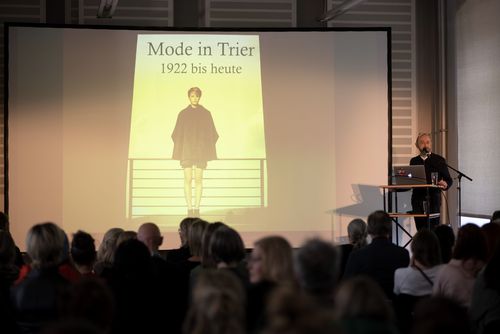 The Department of Fashion Design at the University of Applied Sciences in Trier is not only one of the most renowned in Germany, it is also the oldest still existing institution for fashion design, founded as a design class in 1922 at the State Craftsmen and Arts and Crafts School.
Ralf Schmitt researches the history of the fashion course in Trier.
In an interview with the F.A.Z., Gerd Müller-Thomkins, the long-standing renowned managing director of the German Fashion Institute, recommends the fashion design school in Trier.
"What do you have to look out for in fashion schools? Which ones do you recommend?
Gerd Müller-Thomkins You should keep the term design open in the creative industry - fashion design is also product design. If it absolutely has to be fashion, I recommend public universities with a sound education up to engineering, such as the FH Mönchengladbach offers. The Trier University of Applied Sciences also produces great talent. International tops, besides the École de la Chambre Syndicale de la Couture in Paris, Central St. Martins College in London and Parsons in New York, are the Istituto Marangoni in Milan and of course the Royal Academy of Fine Arts in Antwerp. [...]"
(Wietersheim, Stefanie : Ein Entwurf fürs Leben? - So werden Sie Modedesigner., in: Frankfurter Allgemeine Zeitung, (2021)