Ensuring the quality of teaching and constantly expanding it is a central concern of the University of Applied Scienes Trier. In 2018, the university administration will award a teaching prize worth € 3,000 and would like to reward the work of dedicated teachers and introduce innovative and exciting teaching ideas to the public.
Prize winners 2018: Prof. Dr. Henrik te Heesen, Dr. Tobias Roth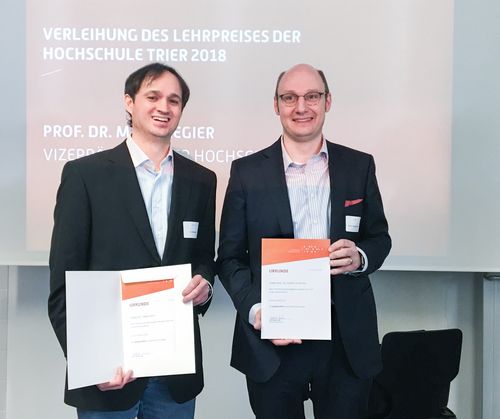 The selection committee has supported Prof. Henrik te Heesen and Dr. med. Tobias Roth with the course "Physics Master". The winners have been able to impart a very theoretical learning object with methods that are rather unusual for the natural sciences. In addition, the concept shows a coherent integration of e-learning and classroom teaching, reflects and takes into account the current university didactic discussion (also in the area of ​​e-learning) and is in principle transferable to other subjects.
The award ceremony will take place during the Teaching Day on March 21, 2019.
If you would like to deal with the implemented concept in more detail, you will find it here as download with the express consent of the award winners.