Pavilion on the Paulusplatz Square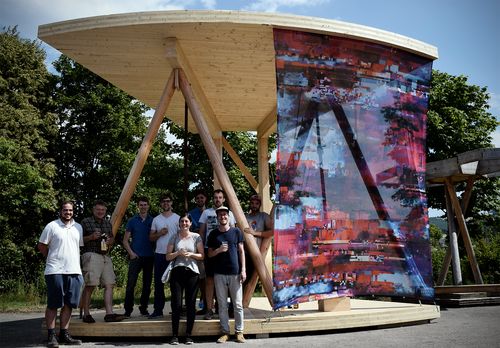 The square in front of the university building on the Paulusplatz on the Campus of Design has always been a bit austere. This was inspiration for the creation of a covered area, which incorporates the historical concept of a "framing ground" with modern parametric design tools from architecture as well as CAD/CAM tools from timber construction. Work was carried out over the course of multiple semesters in collaboration with students from the Architecture Department to design, test and optimize a structure that was then built with support from regional timber construction companies in the fall of 2018. In addition to the varied experience the students brought to the project, a prototype, constructed in advance, provided valuable insight for the final construction. The pavilion will be used through the middle of 2019 as a site for outdoor advertising for the exhibition "Dialogue in the Dark (Dialog im Dunkeln)" at the Pauluskirche church as well as an event location and meeting place.
Hall in Deimberg – Planned 2018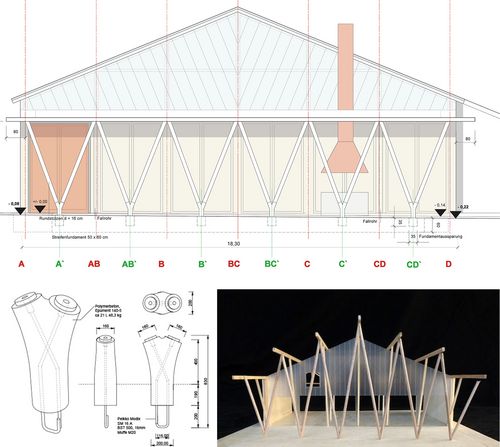 The firm Sieveke Architekten BDA designed a community center in a 1930s Flak hall. An attractive exterior area where the community can meet was created under the existing roof trusses. This community renewal project was supported by Rhineland-Palatinate.
The Institute of Advanced Timber Architecture and Engineering designed, pre-engineered and produced six stress-optimized leg supports of polymer concrete and connections made of round timber for this redesign.
Entrance Portal Foire Agricole, Ettelbrück – June 2018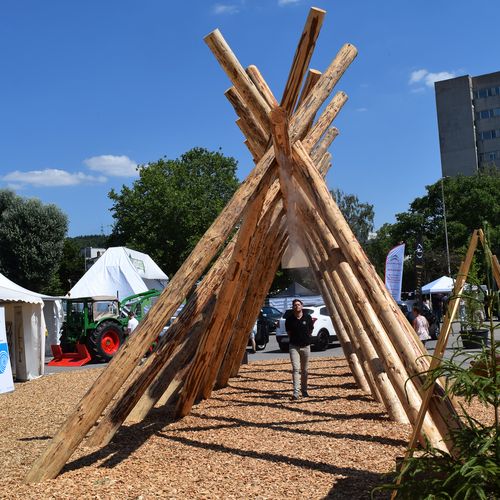 For years, the city of Ettelbrück has been organizing the agricultural exhibition (FAE) which is the largest showcase of Luxemburg agriculture as well as the largest open-air exhibition in the country. For this exhibition, an entrance portal constructed of round timber was created in collaboration with WOOD CLUSTER LUXEMBOURG and the Luxembourg Nature and Forest Agency.