we are very pleased about the great interest in our interdisciplinary Master's degree programmes and the numerous applications associated with them.
Trier University of Applied Sciences is committed to answering all enquiries from international students as well as possible, so general answers to frequently asked questions have been provided.
We kindly ask you to refrain from contacting more than one contact person at the same time. The contact persons distribute enquiries internally and it only slows down the process if several people have to deal with your enquiry at the same time.
We hope this has given you a good overview of the most frequently asked questions and wish all applicants the best of luck in the upcoming weeks!
ARE THERE ANY ATTENDENCE CRITERIA FOR THE LECTURES? DO STUDENTS NEED TO ATTEND ALL THE LECTURES?
In general, it makes sense to attend lectures in Germany, especially at the beginning of your studies, as they often differ from the lectures in your home country. At Trier University of Applied Sciences, however, there are only very few subjects with compulsory attendance, but in some subjects a preliminary assessment is required before the actual examination. Details can be found in the module handbook.
CAN I STILL CHANGE THE SUBJECTS; THAT I HAVE CHOOSEN IN THE GUIDANCE INTERVIEW ONCE I HAVE REACHED TRIER?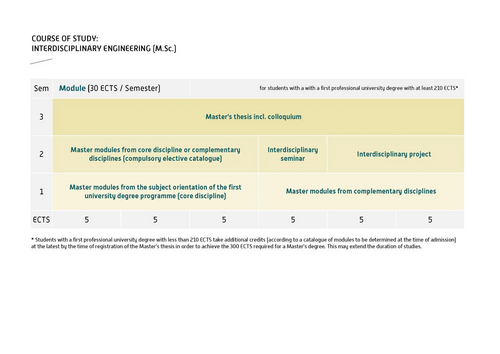 A later change of subjects is possible. The prerequisite is that the subject combination meets the requirements of the interdisciplinary Master's degree programme:
WHERE CAN I LOOK FOR ACCOMODATION APART FROM STUDIWERK?
The following online offers will help you find a room in Trier:
ONCE I HAVE HANDED IN ALL MY DOCUMENTS, WHERE DO I FIND THE ENROLEMENT CERTIFICATE?
The enrolment certificate can be downloaded from the application portal of Trier University of Applied Sciences:
https://studis.hochschule-trier.de
CAN TRIER UNIVERSITY OF APPLIED SCIENCES HELP ME OBTAIN THE APS DOCUMENTS OR SPEED UP THE PROCESS?
Trier University of Applied Sciences, in cooperation with the Academic Evaluation Centre, has forwarded the applicants' personal data to the institution in India in order to speed up the process. Unfortunately, it is not possible to provide any further assistance in this process.

We are looking forward to welcome you all in Trier soon!
I would like to make an appointment for a consultation with the head of the programm.
we changed our application procedure so that the mandatory counseling interview is no longer required. A tool for planning how to assemble the modules for the course is available on our website.

to the Tool
However, if there is a particular need for a consultation from your side, we can carry this out after UNI-assist process is finished and you get your access to the university platform (after UNI-assist) and you finish your first module selection.