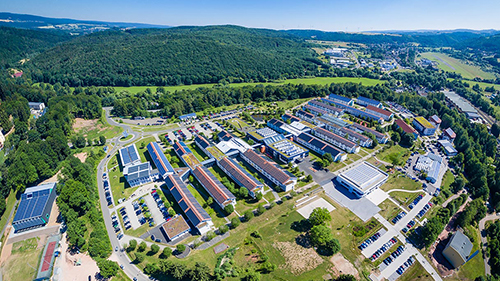 You will need lots of new information at the start of your studies here, others you will find more helpful during the course of your studies. We have tried to gather as many important topics as possible for you to find at a glance here. The topics are clustered and contain links to the respective imformation on our website. Take your time to browse through and familiarize yourself with the content.
We start with the univiersity itself: Trier University of Applied Sciences has a diverse range of courses to study, spread across three campuses and organised in 7 departments. More information in campuses or study course can be found here.
In this section you will find important information regarding the organisation and administration of your course. Especially important are the links to your student ID, the tuition fee and the semester dates. Do also visit the pages of the study service, find out and remember who the person of contact is for your course. If during your studies you should have questions regarding exams or exam registration, you know right away whom to ask.
Cooperative education program
Library
Semester dates
Courses on offer
Course advice
Student ID
Semester fee
Study service
During your course you will have many questions regarding organisation, exams, re-registration, use of computer terminaly and lots more. For all questions directly related tto your specific course you should always turn to the departmental offices first. For all other questions we have put together a list of links with all relevant service units. Please mind the office and telephone hours.
International academic office
Career services
Equality office
Start-up advice office
Advice on doctoral studies
Study service
IT services
Student social service
There is a lot to be discovered about your new place of study. You will find a map of the main campus in the list below. Try out the cafeteria and look up the menu online. The link "semester ticket" will tell you how far you can travel with your student ID on public transport.
Campus map
Canteen and cafeteria
Semester ticket
Accommodation
Studying with disability
Students with family duties
Your electronic helpers and web - services
IMPORTANT! electronic tools of the university: during your studies you will be using different plattforms. How to gain access you can find out using the links below or browsing the pages of the IT Service. They also list information on your personalized storage drive, WLAN of the university and remote access to the campus network. Also important: the web mail service. All information by the study service, the exams office and so on are only send to your university email account. Make sure to check it regularly and don't miss out on important notifications!
IT-service for students
E-Learning platform OLAT
E-Learning platform Stud.IP
Literature management with Citavi
QIS exams management
lecture scripts: public.hochschule-trier.de/vorlesungen/
webmail.hochschule-trier.de
Money, money, money! Sometimes it's a little tight for students. Here you will learn what options you have to boost your budget. One possibility is to work directly at the university. A variety of student jobs are always available, either right with your department or with the university administration (check your university email account!). This way you can get some hands on job experience and your purse will be smiling.
Public grants
Public grants for studying abroad
"DeutschlandSTIPENDIUM" scholarship
Scholarships and trusts
Covering student loans
Supporting student loans
The university thrives with participation - meaning not just during lectures! One quality of German universities is their right to self governance. That means you have lots of opportunities to voice your opinion and put your ideas forward. Working in committees does not only improve your CV, it also adds to live experience and is a great way to make new friends.
AStA student union
Department councils
Student representatives of departments
Senate
StuPa – Student Parliament
Ada-Lovelace-Project
There is a lot going on around and on the campus. Find the right sport to stay fit during your studies, make use of the many cultural offers for students in and around Trier. Also included in this list is a link to the location of all copy machines and scanners as well as the webpage of the campus book shop (next to the canteen entrance).
Bookshop
Campus map
InterCultura
Copying and scanning
Living in Trier
University Sports
Trier Public Transport Association